Map Unavailable
Date/Time
Date(s) - Wed. Oct. 25, 2017
7:00 pm - 8:30 pm
Categories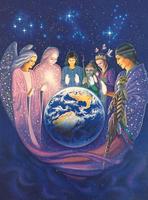 About the Skillshare: In this fun and hands-on "crash course", participants will learn easy ways to tap into their own psychic, or intuitive, gifts and read tarot, angel and oracle cards for the divine highest good of themselves and others.  Peyton will share details of his own professional and spiritual reading practice, including powerful meditation, prayer work, psychic protection, and angel communication.  Participants should bring a deck of tarot, angel or oracle cards to use during the workshop.
About Peyton: Peyton is a Boston area artist, teacher, and professional spiritual intuitive.  He has been working with angel and tarot cards for eighteen years. Peyton is also a Certified Angel Card Reader ™, via angel expert, Doreen Virtue and Hay House Publishing.  As a clairvoyant and clairaudient, Peyton 'hears' and 'sees' the angels' messages in response to his clients' questions, and he shares them, in relation to the cards. Clients find Peyton's readings positive, detailed, and accurate. He wishes for clients to leave readings feeling clear and inspired!  www.peytonpugmire.com
Note: Peyton will be selling his own self-published, positive and inspiring Oz Oracle Cards at the discounted price of $15.00.  These cards are perfect for the workshop!
What is Skillshare? On March 2nd, 2014, nearly 800 people attended the first annual Somerville Skillshare, a free learning event that featured classes taught by nearly 40 local teachers. Now, we're turning this event into a monthly series so that we can continue to showcase the unique talents of local residents!
It's a way to learn new skills, jump-start new hobbies, and meet other people with similar interests, all in a fun and informal setting. And best of all, it's completely free!